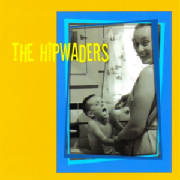 About "The Hipwaders" 2006 Parent's Choice Award-winning album:
"...all the necessary ingredients for a successful kids' album - high energy, a smart sense of humor, and a sound that merges the wholesome goodness of kids' music with the hipness and sophistication of parents' musical tastes. - THE LOVELY MRS. DAVIS blog
"a guitar-based pop-rock confection" - ZOOGLOBBLE blog

" A joy-filled celebration of many events in the life of a kid" - SCHOOL LIBRARY JOURNAL
"...this CD is to children's music what Bullwinkle is to children's cartoons: not just for kids. This CD is one of the year's most imaginative releases in any genre, it's hilarious, and it ROCKS!" - LISTEN & BE HEARD
"(Tito's) lyrics never talk down to the kids, but do a great job of letting them know that adults can sometimes remember what it was like to be a child." - A FAMILY RUNS THROUGH IT blog

"It's smart, catchy and fun" - ONMILWAUKEE.COM
"Their debut CD is terrific and makes them a promising entry into the kids' music world. Either you're on the bus or you're off the bus...Definately pay the fare and get on with The Hipwaders!" - COOL TUNES FOR KIDS blog
"The Hipwaders can be viewed as cooler friends of the Archies... The album - and the group - are a poppy, happy revelation." - BLUECOUPE blog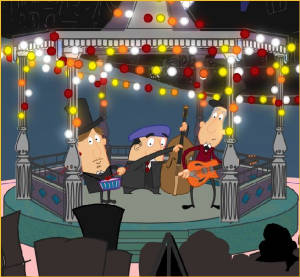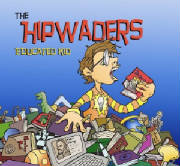 "In same spirit of completely wonderful, whimsical and musically gifted treats for the young set is the Bay Area-based Hipwaders pulling off some brilliantly fun and surprisingly hip songs extolling touchstones of childlike glee including art cars and dinosaurs. With Devo influences the post-mod-rock trio lays some serious grooves and invokes the best spirits of They Might be Giants, Schoolhouse Rocks and The Beatles' veiled odes to decadence that were so brilliant no one cared what they were about. The Hipwaders are on a great path to immortality if they throw down some trippy videos of kids taking over the world and start building post-modern parables that speak to children of all ages and can be reinterpreted on multiple cultural and spiritual levels. Indeed we all might be hip-deep soon."
"Flawlessly recorded and superbly performed, "Educated Kid' is an enthusiastically recommended addition for family, elementary school, and community library CD music collections for young children"
–
Midwest Book Review
"…they extol the virtues of reading, geometry, and the Dewey Decimal System, but their danceable New Wave-ish pop and lighthearted lyrics keep their messages fun" – Entertainment Weekly
"The Hipwaders' sophomore effort gets more out of jangly, hook-infused power pop than almost any other children's album we've heard in years, and it has the confidence of a songwriter (Tito Uquillas) who can to take in elements of other genres and make them his own in a band that hasn't lost its edge or power to surprise."
–
Z Recommends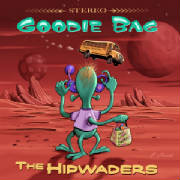 "Simply put, this is a great powerpop mini-album, nevermind the intended age" - Warren Truitt, About.com Children's Music
"...don't miss the very danceable and pure pop-rock song, "Things You Want." This tune—the highlight of the CD, in my opinion—should make this disc a kid favorite on any road trip. With Goodie Bag!, you have another great disc to keep in constant rotation." - Chattanooga Parent
"This Bay Area threesome have a toe-tapping, jangly guitar sound and smart, quirky lyrics that remind me of They Might Be Giants and Barenaked Ladies. But it's the minor-chords in songs like What's That Noise? that give the CD a very cool edge that make it sound even more grown up." - Cool Mom Picks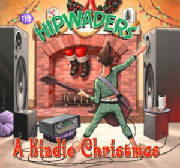 "I've always said that Christmas albums should rock out. There are plenty of traditional albums out there filled with sleigh bells and "Drummer Boy," but there are none that we know of that feature a song called "Santasploitation," where Mr. Claus himself is the rock star! The funked-up "It's Wintertime" truly captures the hip-kid feeling of Christmas. From there, we taste a bit o' country in "Santa's Train" and the fun doesn't stop there. The album gets progressively more and more rockin', with some nice poignancy coming through in "Tinsel and Lights" that better describes the Christmas scene than traditional songs do. Complete with full rock band, distorted guitars and even a little country twang here and there, this album is the Little Miss Sunshine of kids' CDs. (Don't worry. There're a few sleigh bells on this album, too!)" - NAPPA Honors Award

"'Wake Up',with it's parade of sleigh bells and cascading, picture-perfect postcard lyrics, such as "large candy canes dangle from the trees / skating polar bears glide by so gracefully / gingerbread men falling through the snow / the northern lights casting a heavenly glow", may just be the best 2 minutes of rock-n-roll Christmas tunage ever." - Out With the Kids
The American Heritage Dictionary of the English Language defines childlike as "Like or befitting a child, as in innocence, trustfulness, or candor." I love this CD, so if that makes me childlike, then hand me another cookie, fill my milk glass and let me enjoy the tinsel & lights!" - Bongobells